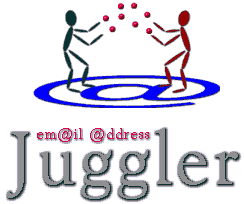 Email Address Juggler
Email Address Juggler is a powerful Windows package (Works with Windows 95, 98, 2000, NT, ME & XP) which allows you to sort, filter and manage email address lists in an intuitive and controlled fashion. Email addresses can be automatically read from just about any kind of file including wordprocessor documents, webpages (including remote pages), email client folders (great for scanning form mail responses), most databases, spreadsheets and existing email lists. You can also use Juggler to compose and send your email messages to the recipients on the list.
Juggler 2.75 offers additional features and significant performance improvements over earlier versions. There are new and improved tools which make Juggler more versatile, faster and easier to use. Plus there are new features supporting different kinds of mail server authentication schemes. If you have an older version of Juggler, please go ahead download version 2.7. Registered users of previous versions can update to the full registered version 2.75 free of charge.
If you have an earlier copy of Juggler 2.x, you can update to version 2.75 with a special, smaller update package. Downloads are available here.
Anyone can download Juggler 2.75 but please note... This software is designed for maintaining legitimate email lists. Sending any offensive or unsolicited promotional materials (spam) is specifically prohibited. If you're looking for software to send spam, you are not permitted to use this package.

One of the various Juggler windows.

Where do you want to go next?...






INTERNATIONAL SPELLING DICTIONARIES AVAILABLE HERE.

YOUR QUESTIONS ANSWERED HERE





Payments through our Online Store are handled safely and securely by PayPal.

Click here to enter our
ONLINE STORE



Copyright © Mirage Audio Visual Media